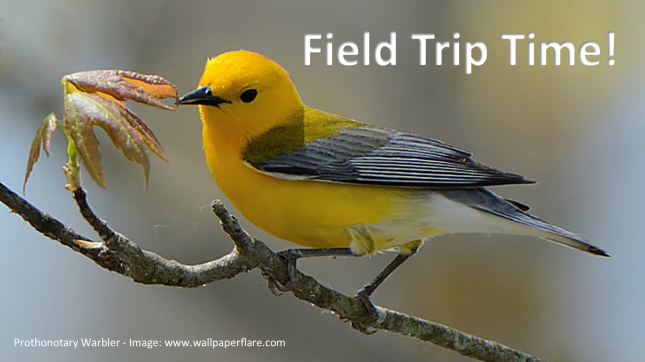 The Audubon Society of Central Arkansas (ASCA) hosts monthly birding field trips to locations around the state. Everyone is welcome!
July 22
Dr. Lester Sitzes III Bois D'Arc WMA - Hope, Hempstead Co
Meet at 7:00 a.m. at the south end of the commuter parking lot at the I-630/I-430 intersection at Shackleford Road in Little Rock. We'll stop at the McDonalds in Hope (Exit 30 off I-30) around 8:45 a.m. for those in south Arkansas who would like to join us. Look for Great-tailed Grackles at McDonalds. We should arrive at the Bois D'Arc WMA at 9:15 a.m. Our target birds will be Purple and Common Gallinules and their chicks, Least Bitterns, Anhingas, Black-bellied Whistling Ducks, herons, egrets, and possibly an alligator or two! Very little walking will be involved. Bring scopes, plenty of water, snacks, and lunch. There are several restaurants in Hope if you prefer to eat lunch in town.

Bois D'Arc WMA is located 10 miles south of Hope. Take Exit 30 off I-30 and go east. Continue past McDonald's, then under the railroad overpass. At the light at the big intersection, turn right onto Hwy. 67. Go 1/3 of a mile. At the brown sign, turn left onto Hwy. 174. Take Hwy. 174 south 6 miles to the 3-way stop sign at Spring Hill. Turn right onto Hwy. 355. Go west for 4 miles. Turn right at the white wooden WMA sign just before the highway ends in the lake. Follow the paved road, then turn left onto the first gravel road and go down to the lake. GPS: 33.558062, -93.694239
August 26
Bald Knob National Wildlife Refuge (NWR) - Bald Knob, White Co.
Meet at 7:00 a.m. in North Little Rock on the east side of the Other Center parking lot below McDonald's. The Other Center is on McCain Blvd. across from McCain Mall. Take Exit 1 west off US-67/167. We'll arrive at Bald Knob NWR around 8:30 a.m. for those who want to meet us there. Look for the line of cars parked on Coal Chute Road. This federal refuge is also a National Audubon Important Bird Area. Expect to see shorebirds, herons, night-herons, egrets, and possibly Wood Storks and Roseate Spoonbills. It will be very hot so bring plenty of water, snacks, sunscreen, and a hat. If you have a scope, bring it. Very little walking will be involved.
There is no bathroom on-site. There is a McDonald's just off Hwy. 67/167 at Bald Knob Exit 55. Go to www.fws.gov/baldknob/ for driving directions and more information about the refuge. GPS: 35.260233, -91.571903
Visit the ASCA website for information on becoming a member and other items of interest: ascabird.org