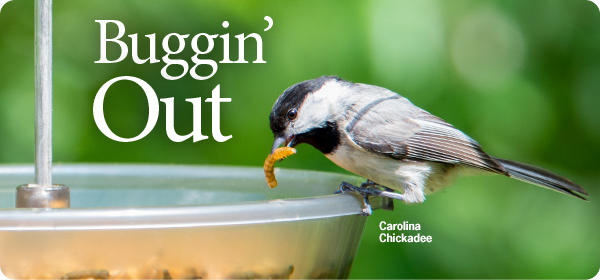 The New Way to Offer Mealworms
Insect-eating birds, like bluebirds, woodpeckers, chickadees, orioles, wrens, and robins, love mealworms. However, many bird feeding enthusiasts do not love handling live mealworms. That's why we offer Dried Mealworms in addition to Live Mealworms! They pack all the energy and protein of live mealworms, but dried mealworms are easier to offer and store for later, and can be used in a variety of ways that live mealworms can't. For example, dried mealworms can be addded to birdseed or mixed into homemade suet.
Whether you serve dried or live mealworms, the birds will thank you!
Buy Any Mealworm Feeder; Get ½ Off a Bag of Dried Mealworms
Buy any mealworm feeder, get 50% off one 4oz or 16oz bag of Good Grubs Dried Mealworms. Valid only at Wild Birds Unlimited - Little Rock. One discount per purchase. Not valid with other discounts or previous purchases. Offer valid thru 10/28/17.